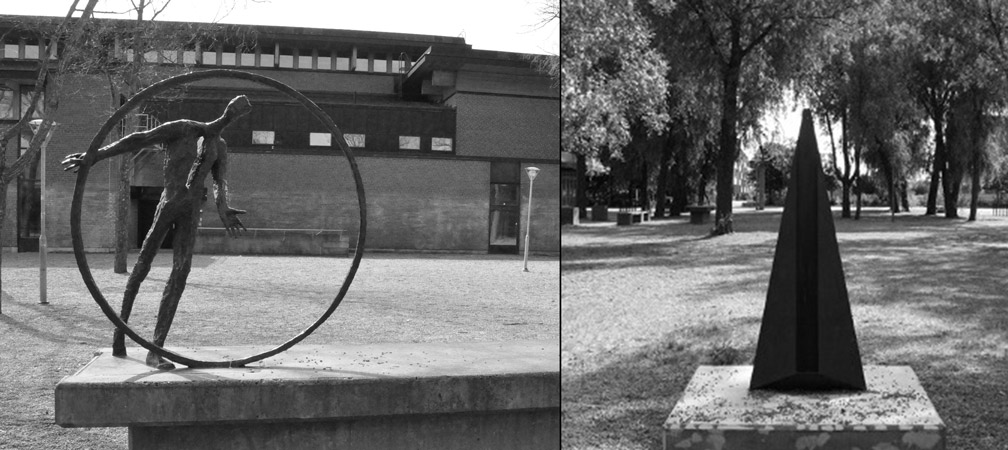 Image (left): Olof Hellström sculpture. Image (right): Wooloo sculpture. Photos by Jacquelyn Davis
Background
Avfyringsrampe / Launching Ramp by the Danish artist group Wooloo is a public sculpture which takes the form of a fire-rocket launching ramp made of bronze, steel and concrete. It was installed outside Tensta Gymnasium, in the same-named Stockholm suburb. In 2012, the work was commissioned by the Royal Danish Embassy in Stockholm during the Danish presidency of the Council of the European Union.
Stefanie Hessler: Your work often uses mechanisms of mass media and exposes their underlying structures. I am thinking of the work Defending Denmark, which you initiated after what you refer to as the 'Muhammad Caricature Crisis.' Following the promotion of boycotted Danish products in Morocco, including beer and caricatures, you joined the right-wing anti-immigrant Danish People's Party (DPP) and attended their party meetings in an (unsuccessful) attempt to change their racist position. You published a video taken during a caricature competition, in which members of the party were competing in drawing cartoons mocking Mohammad. Al Jazeera reported on the video and subsequently, the Danish media portrayed reactions as if the Arab world was on the verge of mass protests—mainly by using archive footage from the first 'caricature crisis.' With Avfyringsrampe / Launching Ramp, you touch on another delicate subject—namely that of Swedish immigration politics. The rocket launcher was installed in Tensta, a suburb close to Stockholm, directed towards the heart of the Swedish capital which caused strong reactions. The largest national newspapers, such as Svenska Dagbladet, discussed the project for months. The opinion propagated in these articles was mainly concerned with the provocative nature of the project, and the concern that it would boil up again the conflicts of Tensta, which is considered a problematic neighbourhood. Did you expect this kind of reaction? What implications do they have for your work?
Wooloo: During our site visits to Tensta, we became fascinated by the way in which so much attention and energy was directed from central Stockholm towards this community in the city's periphery. Mainly two types of preconceptions were floating around, connected in many ways: the locale is a "dangerous ghetto in need of control" and "the multicultural community is in need of support." However, looking closer and spending time on site, it became clear that most of the individuals who wanted to help, eradicate or in other ways change Tensta knew little about the community and its locals. They were white middle-class Swedes who were fed the same media-fueled narrative made for them by other white middle-class Swedes. Svenska Dagbladet who later reported on our project, for example, is one of the largest daily newspapers in Sweden—yet, this newspaper is not for sale anywhere in Tensta. We wanted to intervene into this ongoing story about Tensta, and by doing so, make it clear that it's a narrative that does not actually include daily realities of the place. So, yes, this part of the 'outside' reaction was expected. The other part of the work, and the part that we are most interested in ourselves, has to do with an attempt to reverse this same one-way narrative and let Tensta speak for itself—if even just for the brief moment of a burning light in the sky.
SH: To fully understand the narrative that you are referring to, let's go back to the history of Swedish immigration and housing politics—to look at the so-called Million Programme of the 1960's during which new satellite communities in suburbs of the larger cities were erected. These were intended to house the growing immigrant population and attract native Swedish families with their proximity to nature and affordable living. Today, the Million Programme is largely regarded as a failure. Instead of turning the multicultural utopian plans into reality, these suburbs have become segregated areas detached from wealthy city centers. Nevertheless, Sweden is still internationally perceived as a country representing the immigrant dream and has (until recently) been largely thought of as one of the role models of immigration politics and social welfare. As is often the case in areas regarded as problematic, artists are brought in, and art is applied as a cure and remedy for social problems where politics have failed. Your work comments on this paradox. It seems as if the turmoil that rose after Avfyringsrampe / Launching Ramp was erected is due to the fact that it points to certain unpleasant and inconvenient truths. What is your stance towards 'good' and pleasing community projects? Do you think that political correctness can be a muting dampener of actual debates and relevant discussions?
W: The main problem with political correctness is that it is often a symptom of a lack of knowledge. We treat certain people in certain ways and refrain from discussing particular issues because we actually have no understanding of the people and issues at hand. We stick to large narratives that makes ourselves feel comfortable, and in doing so, however well-meaning we are, we end up missing out on the complexities of a community such as Tensta. On the other side of this argument stands what could be called 'The Danish Way.' In Denmark, the far-right, anti-immigration party DPP has had and still has a great deal of power in parliamentary politics. Their largest victory, however, seems to be one of language, as it has become commonplace to speak harshly and degradingly about our immigrant population, even by official members of parliament. In this scenario, political correctness is not an obstruction in the same way as it might be in some Swedish debates; however, the result is much the same: we miss out on the complexities of people and communities—resulting in inadequate (even if well-meant) projects.
SH: Avfyringsrampe / Launching Ramp was commissioned by the Royal Danish Embassy in Stockholm in 2012, during the year of the Danish presidency of the Council of the European Union. Aside from immigration politics, it comments on the fact that the country holding the chairmanship of the European Union pumps large sums of money into art projects. These are intended to represent the country's foremost artistic protagonists and promote national culture. They aim at nurturing a specific image of the respective country as a marketing measure. Avfyringsrampe / Launching Ramp twists these intentions, not to say turns them around. How did the commissioner react to the work, and did any discussions take place prior to its implementation? Did they anticipate the media and public reactions, and once they started to surge, did they change their position and stance towards the project?
W: In our opinion, the funding background of a commission is always the first aspect to consider. What is your art being used for, and should you even accept the commission? In this case, wanting to avoid being some sort of Danish poster child, it was important for us to leave the Danish-Swedish dynamic and instead focus on a situation in which our nationality was no longer of importance. There are 90 nationalities living in Tensta, speaking at least 137 different languages, so it was the perfect spot in this regard. In Tensta, everything is about 'new' and 'old' Sweden. Denmark is not an issue. The people at the Embassy were supportive throughout. It was actually the Danish Arts Council who selected us for the commission, and the Embassy staff functioned as production team, so to speak. They helped us navigate the Swedish bureaucracy, getting the right sculpture permits, etc.
SH: How did you deal with the fact that you came into Tensta as 'outsiders' as well—white middle-class Danes (if not Swedes)? Did you work with the community at all? Since you do not want to provide a cure in the sense of 'good' community art projects, is the project Avfyringsrampe / Launching Ramp finished for you, including debates that it caused, or will you continue working with it in one way or another?
W: We always work site-specifically in one way or another, and we began this project with many local meetings in Tensta. This is how we came to learn about the influx of 'do-gooders' in the community. For the locals we met with, we were just another gang of well-meaning white kids in town, and the way they greeted us (with this slightly amused kind of apathy you also experience in places visited by large amounts of tourists) became one important way for us to understand part of the situation in Tensta. And there will, of course, always be only a partial understanding of these projects. However, a great deal of assistance came from a person that the Embassy put us in contact with locally. Gregor Wroblewski has lived in Tensta for decades and is, among other things, founder and former director of Tensta Konsthall. His local knowledge and network became essential for realising our project, meeting key community members, etc. One out of several amazing acts that Gregor did was: he connected us to an underground foundry in Tensta—run secretly by locals. It was through them that we made the actual bronze sculpture produced on-site. This allowed us to keep our production budget within the community. Gregor is still on board, and it is with him that we continue to organise use of the sculpture, as well as keeping the bureaucrats at bay.
SH: In Tensta, there are two public sculptures created by the Swedish artist Olof Hellström (c. 1987) made of bronze, steel and concrete. Avfyringsrampe / Launching Ramp is cast in the same material. The form and material refer to a specific notion of public sculpture, in the tradition of what is called 'utsmyckning' (translation: decoration) in Sweden. Formally, it could easily pass as another modernist sculpture. Nevertheless, the energetic potential with which it is charged is diametrically opposed to traditional public sculpture, which is placed in a specific location after it has been conceived by the artist, and then stays in the same spot for years, unchanged like Hellström's sculpture. Please discuss your relation to the tradition of public sculpture and the unfinished work you propose, which requires the public's participation who must activate it, in order for it to become the artwork it is intended to be?
W: This project is interesting from an art historical point of view. As is the case with social housing projects all over Scandinavia, the ground in and around Tensta is littered with modernist sculptures. Sculptures made largely of the same materials, often involving human or other organic shapes. You could call it: Sculptural Humanism! Locals do not even seem to notice these structures anymore. They have become places on which you can lean your bike, take a piss or try to avoid along your way—similar to rocks on a mountain road. For us, Olof Hellström's 1980's sculptures are good intentions in the shape of concrete and bronze. As for so many other good intentions over the years, they have been created in studios outside Tensta and have been left in the community by outside forces with the hope of 'improvement.' No involvement by anyone in Tensta, however, is apparently required for this improvement to take place. With Avfyringsrampe / Launching Ramp, we wanted to reclaim these modernist signature materials and see if we could conceptually recycle them to create something that local kids would find fun and useful—as well as something that would send energy in the opposite direction, from Tensta back to Stockholm.
SH: Avfyringsrampe / Launching Ramp can be read as a proposal for changing the public's perception of Tensta. Rather than depicting it as a place which needs the help and attention of politicians, it suggests a different strategy—namely, that of giving its inhabitants the space and opportunity to speak up. Agency is an important concept—when talking about Avfyringsrampe / Launching Ramp. It seems as if the controversy around the proposed violence of Tensta towards the city center is a diversionary manoeuvre aimed at distracting attention from the actual issue at stake. As you say, Tensta is being used as example and guinea pig for social political projects that commonly lead to and utilise art projects. Rather than depicting Tensta as the one in need of help, an inept patronised community, Avfyringsrampe / Launching Ramp proposes a tool for turning the direction of energy around. The focus no longer lies on the city's goodwill and money being pumped into Tensta, but the suburb's energy and agency are suddenly turned towards the city. It is a reminder that Tensta is not merely a problematic suburb in need of help, but that this region has both energy and agency to produce and reverse energy. Can you talk about the notion of agency? Do you think the emancipatory aspect of the work is actually unwanted, to the extent that Tensta should remain the useful example on whose back improvement policies, good intentions and social art projects can be discharged?
W: Yes, there is no doubt some truth to this. We were astounded by the resistance to the project by certain official Stockholm agencies that you need to work with in order to put up a new sculpture. At first, they were helpful, yet once the media story broke, it was hard to even get hold of them—something we needed to do in order to get permission papers signed, etc. We kept pressing the point that it was an official gift from the Danish state—as gifts are hard to refuse—and in the end, we erected the statue with a lot of local help. Now they want to remove it again; it is not yet clear what the final decision will be. Nobody has openly complained about it; it is bureaucratic-protocol-type stuff. We'll see. In the meantime, the principal of the Tensta High School continues to receive offers on a daily basis from individuals who want to help his students in various well-meaning ways. But what if, as you say, they do not need help? What if it is the other way around? What if these kids are actually the essential Swedish innovators and creators of the future? Of course, it is true that crime is high in Tensta. But so are their high school graduation statistics—and the graph rises even more steeply for the latter.
About the Interviewer
Currently based in Sweden, Stefanie Hessler is a curator and writer from Germany. She is the co-founder of the art space Andquestionmark in Stockholm (with Carsten Höller). Recent curatorial projects include the 8th Momentum Biennial in Moss, Norway (2015); "Outside"at Index – The Swedish Contemporary Art Foundation and Moderna Museet in Stockholm, Sweden (2014); "Klara Lidén: The Myth of Progress (Moonwalk)" at Lugar a Dudas in Cali, Colombia (2014); "Carsten Höller: Half Past and Half To" and "Marjetica Potrč: Caracas Dry Toilet" at Die Ecke in Santiago, Chile (2012-2013); and the festival and symposium "Performing Recalcitrance" at the Royal Institute of Art in Stockholm (2012). Hessler regularly writes for art publications, such as ArtReview and Contributor Magazine and edits books, such as Typewriter for Capacete São Paulo and Life Itself for the Moderna Museet Stockholm. She is now curating the exhibition "Speed" at the Museum of Modern Art in Recife, Brazil.
For more info about Avfyringsrampe / Launching Ramp, go here.