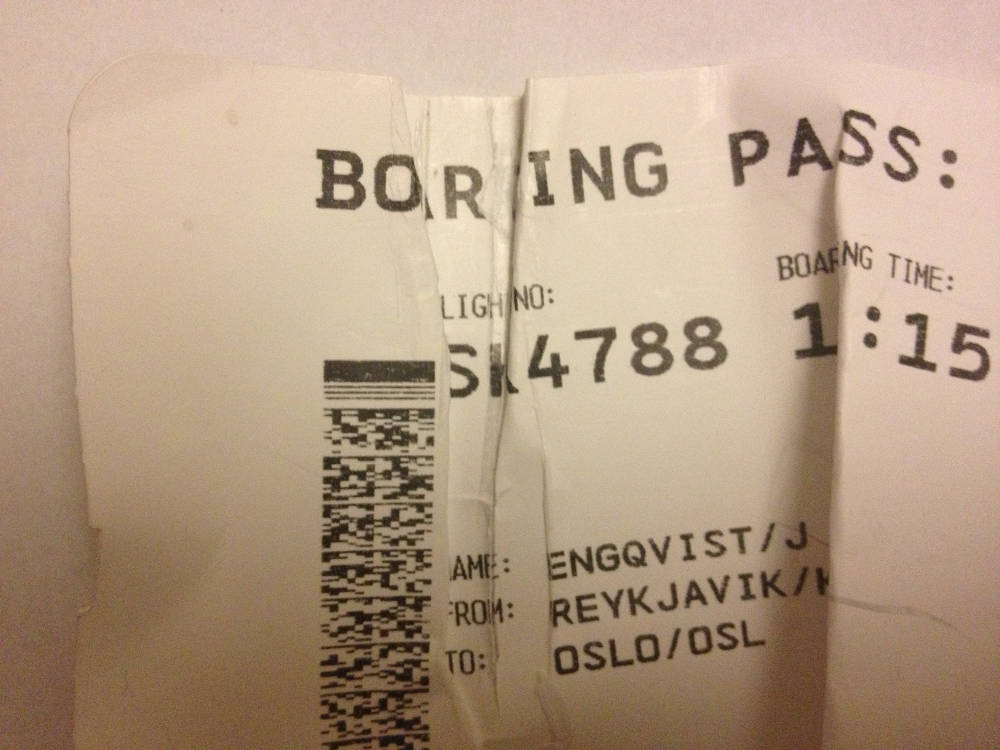 Image: Boring Pass Reykjavík-Oslo (2012). Photo by Jonatan Habib Engqvist
Concept / Theory / Inquiry
"And on it went. As if nothing really happened, their common journey continued. In retrospect, it had been a smooth ride. Perhaps too smooth. But in many respects, it was and had been comfortable, and there had been no need to question it. There was no tension that couldn't be dispersed. And they shared a common history lined by a modest palette of healthy conflict and animated discussions; not too many arguments, or latent, undealt with insinuations. They had some kind of common ground. Maybe they had gotten used to it. Not in the sense that they would take their situation for granted. No—they were far too conscientious and well-educated for that. But while time was doing what time does, it became a kind of habit to affirm one another without reflecting too much on it."
—excerpt from text in progress
Every time Magnus Sigurdarson travels, he will produce a work relating to that specific situation. In parallel, every time Jonatan Habib Engqvist travels, he will produce a new text. Together, their new work will be displayed in conversation with one another.
Medium / Materials Used
» Video
» Text
» Sound
» Multimedia installation
Technique(s)
» Multimedia installations.
» Public exhibitions—most likely in hotel rooms.
Where Project Will Occur
» Sigurdarson will be in the United States, and Habib Engqvist will be in Scandinavia. Habib Engqvist will be traveling primarily on trains, and Sigurdarson more so in automobiles—with occasional transatlantic trips for both. Trips will occur to cities, such as: Lund, Stockholm, Örebro, Copenhagen, Oslo, Mariefred, Miami, New York, San Francisco, &c.
Itinerary
» Writing will be sporadic but will occur in conjunction with specific voyages. Installations and related exhibitions will occur after writings and production of visual work: in hotel rooms related to additional trips for specific arts events (e.g. Miami Basel).
» Project aspires to be complete 2014-15.
How Project Assists valeveil
Emosmosis is an American-Scandinavian artist-curator collaboration utilizing a tête-à-tête format which, by design, more closely examines American and Scandinavian creativity by zooming in on two individuals located in the United States and Scandinavia. Their documentation and communications with one another will follow an experimental format based upon their series of travels in numerous locations. Their final texts, visuals, installations and exhibitions aspire to reach a larger audience of ranging individuals located in the United States, Scandinavia and elsewhere. The unavoidable boredom, repetition and malaise associated with frequent travel are factors influencing their production. Project results will be open to the public and address sentiments shared by many who find themselves in transit.
About the Arrow Curator
Jonatan Habib Engqvist is a Stockholm-based theorist and curator. He has previously worked at Södertörn University, Royal Institute of Art, as curator at Moderna Museet in Stockholm and as project manager at Iaspis: the Swedish Arts Grants Committee's International Exchange Program for Visual Art. Additionally, Engqvist is editor-in-mischief at tsnoK and producer of international programs and exhibitions. He has written for and edited journals such as Ars Hypermedia, Glänta, Ord&Bild, Motiv, Input and Divan and co-edited books In Dependence (Torpedo Press, 2013), Work, Work, Work: A Reader on Art and Labour (Iaspis / Steinberg Press, 2012) and Dharavi: Documenting Informalities (The Royal Institute of Art, Stockholm 2008 & Academic Foundation, New Delhi 2009). Recent freelance projects include "(I)ndependent People" at The Reykjavík Arts Festival (2012).
About the Artist
Magnus Sigurdarson (b. Reykjavík, 1966) studied at Studio Cecil-Graves in Florence, Italy, The Icelandic College of Art & Crafts and received an MFA from Mason Gross School of the Arts at Rutgers University. He has shown work at Dorsch Gallery, Miami, Pan American Art Projects in Dallas and Miami, Luhring Augustine in New York, Kevin Bruk Gallery at Art Basel Miami (2007) and international venues such as IDEOLOGIA II, Nordic Biennial of Contemporary Art, Gothenburg, Sweden (2003), Momentum 04: Nordic Biennial of Contemporary Art, Moss, Norway 2004, Museum Dhondt-Dhaenens, Gent, Belgium 2004. The First Biennial of Urban Sculpture in Shanghai, China (2005), apart from his native Iceland. His works are in permanent collections of La Collezione La Gaia, Busca, Italy, The Icelandic National Gallery, The Living Art Museum in Reykjavík, The Reykjavík Municipal Museum, the private collections of Emmanuel Javogue, Pétur Arason, "Safn / Museum" and Alberto Chehebar—among others. He currently lives and works in Miami, Florida.
Contact Info
jonatan [at] philosophy [dot] se