foxhole—a community project in collaboration with Minibar Artist Space—begins this autumn in Stockholm. foxhole meetings occur monthly and aspire to assist independent curators and self-organized entities; the project is interested in creating and supporting its own safe zone or 'foxhole' of self-sufficiency. Contributors decide what foxhole should do, be and who it serves. Let us begin the process of finding common curatorial and creative goals (independent vs. collective) and realize emerging ideas.
» Foxhole Meeting #1
Date: Wednesday, 10.17, 2012
Time: 7-9 pm
Location: Minibar Artist Space
Address: Hälsingegatan 33, 113 31 Stockholm
T-bana: Odenplan / S:t Eriksplan
Meetings are loosely structured as follows (subject to change) and will periodically expand to include relevant workshops, intensives and investigations:
7 – 7:30 pm: introductions / networking
7:30 – 8:30 pm: idea development / brainstorming / troubleshooting (i.e. work)
8:30 – 9 pm: artist / speaker presentations
Note: All meetings are open to the general public. Feel free to stop by and introduce yourself! Fika & refreshments await.
October's Artists & Speakers
Nicola Bergström Hansen is an artist living and working in Stockholm. She has a BFA from the School of Photography in Gothenburg and graduated 2012 with a MFA from Konstfack. Much of her work relies on the use and appropriation of public archives as a creative tool to examine historical events which many try to forget or erase. Bergström Hansen is particularly interested in how we attempt to categorize, understand and define violence, trauma and difference. By methods of deconstruction, sampling and remixing, she attempts to find new ways of seeing and understanding.
Ami Kohara is an artist with an MFA in Art in the Public Realm from Konstfack and a BFA in Fine Arts from Musashino Art University (Tokyo). Kohara aims to create social environments in which people come together to participate in shared activities; she believes that experiences with food are able to expand limitations of one's perception of reality by affecting the criteria based on one's cultural background. Currently, Kohara is forming the cultural entrepreneurial project Låt Mig Smaka! in which she provides services in experience economy.
Mirko Lempert has worked for several film companies in Germany and Sweden. His work is mainly focusing on children and youth films and the possibilities Transmedia is offering to reach and interact with that audience. Since 2011, he lectures on topics as crowd funding and alternative distribution models for independent films, as well as giving a class on multi-platform storytelling at Stockholm's Academy of Dramatic Arts. Lempert holds an MA in film production.
Anna Nordström is a textile artist based in Stockholm. Educated in Stockholm and Baltimore, she has an MFA from Konstfack. Her work emanates from collecting a wide range of materials and proceeds through various crafts on different skill levels. Nordström shifts between practices of patchwork, bookbinding, photography, sculpture, embroidery, illustration and drawing. Contemporary labour ideology and its surrounding politics are concerns in her work, as well as historical influences contributing to where we stand today. Nordström often uses popular culture as inspiration and to help identify standards and power structures.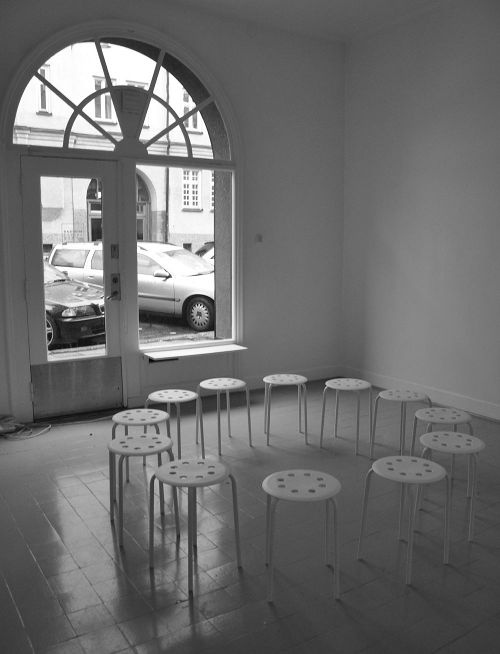 Image: Minibar Artist Space. Photo by Jacquelyn Davis
For more information, go here.