The 5th foxhole meeting is approaching. foxhole meetings aspire to assist independent curators and self-organized entities; the project is interested in creating and supporting its own safe zone or "foxhole" of self-sufficiency in Stockholm. It can be a continual question of aesthetics and, oftentimes, even a moral conundrum or existential dilemma regarding what methods and materials artists, designers and curators choose to incorporate into their creative practice. This meeting will attempt to breach the subject of what specific methods and materials are considered to be superior, acceptable or "good" whilst others are deemed low-brow, "bad" and therefore rejected. Why and how are such decisions made, and what are these opinions based upon?
Foxhole Meeting #5
Date: Wednesday, 03.06, 2013
Time: 8-10 pm
Location: Minibar Artist Space
Address: Hälsingegatan 33, 113 31 Stockholm
T-bana: Odenplan / S:t Eriksplan
8 – 8:30 pm: introductions / networking
8:30 – 9 pm: Eskil Loftsson's presentation + Q&A
9 – 10 pm: one-night-only exhibition of artist's selected works
Note: All meetings are open to the general public.
March's Invited Artist / Speaker
Eskil Loftsson is a Swedish artist based in Stockholm; he has pursued studies at Konstfack in Ädellab / Metal Design (2010) and California College of the Arts (CCA) and has exhibited work at F12 Terrassen, Lydmar Hotel, Gustavsbergs Konsthall, among others. Loftsson incorporates ranging mediums into his work (e.g., sculpture, photography, performance art). His art is contrasting, harboring contradictions, careening between extreme expressions. In his Baroque-inspired sculptures, he combines dead, rotten animals with childrens' toys, jewelry and casted genitals. For foxhole, Loftsson will elucidate upon his preference for carrion—why he likes the smell and texture of blood and guts, believing that everyone else should too. He will also discuss the newly invented "Infected-Relation-Prevention-Photo-Therapy" and the collaborative initiative "Spektakel" in association with the artist collective "Drömfakulteten" in which the artist founded.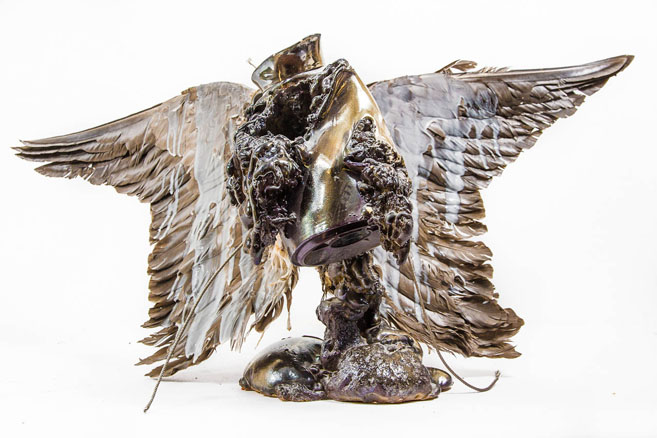 Image: Sculpture (2013). Photo by Eskil Loftsson
For more information, go here.