The 8th foxhole approaches. foxhole meetings aspire to assist independent curators and self-organized entities; the project is interested in creating and supporting its own safe zone or "foxhole" of self-sufficiency in Stockholm.
Swedish artist Klas Eriksson will present a new talk "Having a laugh?" His point of departure will begin with ideas revolving around his own existence and related concerns such as speed, threats, social media and academic language. The talk itself will shift between different languages: slang, short spells, English, Swedish and B.S. by the instaligist "Forza Skiten." Additionally, he will extract topics from two recently published texts, one being
"HÅLL IHOP NU HORUNGAR, NU KÖR VI!" (tsnoK, 2013). ACAB (all curators are bastards / all cops are bastards) scarfs will be available for purchase (300 SEK) throughout the evening.
hashtags: #forzaskitenlive #kåtpågrav
@ForzaSkiten
Austrian artist Simon Mullan will give the performative artist talk "What is love, baby don't hurt me, don't hurt me, no more!"
It all happened so fast.
There will be singing.
There will be tears.
The relationship between Love and creating Art.
To leave a mark.
The WOW effect.
The Builder / Vandalism / The Cleaner (a future project)
Idols.
Sex, love, alcohol and drugs.
Manifest to simplicity.
Entertainment (without being paid).
Bitterness.
One-way tickets.
A farewell speech to a dead city.
Foxhole Meeting #8
Date: Sunday, 09.29, 2013
Time: 7-9 pm
Location: Minibar Artist Space
Address: Hälsingegatan 33, 113 31 Stockholm
T-bana: Odenplan / S:t Eriksplan
7 – 7:30 pm: introductions
7:30 – 8 pm: Klas Eriksson's presentation + Q&A
8 – 8:45 pm: Simon Mullan's presentation + Q&A
8:45 – 9 pm : wind down
Note: All meetings are open to the general public. Refreshments await.
September's Speakers
Klas Eriksson (b. 1976) lives and works in Stockholm. Eriksson is interested in control, power and limitations. He expresses himself through performance, video and sculpture. Eriksson's point of departure is mass-culture, where employing various strategies, he explores notions of authenticity, power and artistic expression. Eriksson enjoys doing his own thing, establishing a communicative immediacy, which is both visually and conceptually innovative. His work often borrows expressions from popular culture, sub-culture and power structures. Eriksson completed his MFA at the Royal Institute of Fine Art in Stockholm (2010). Recent appearances include the Copenhagen Art Festival (2012), Bucharest Biennale 5 (2012) and Gothenburg International Biennial (2011). The artist is represented by Nordin Gallery. www.klaseriksson.org
Simon Mullan (b. 1981) is an artist from Vienna, Austria but is now based in Berlin. He graduated from The University of Applied Arts in Vienna and the Royal Institute of Art in Stockholm. He has, throughout his work, searched, explored and questioned conceptions and clichés of masculinity, macho culture, human fear and passion. He works mainly with video, performance and sculpture. www.simonmullan.com
Mullen's work is politically difficult and socially awkward: it aims to puncture and rupture our programmed responses. This, together and with the shared delight in formal exhibitionism, seems to see the artist working within the tradition of the mid-twentieth century Actionists. Like that historical tradition, Mullen's work projects a visceral masculinity, yet one that hides a deeper sense anger directed towards the malignment of the collective subject within a capitalist, traditionalist, society.
—Oliver Basciano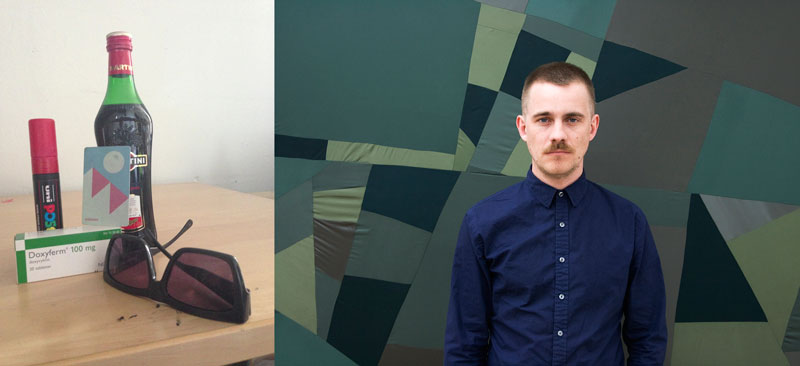 Image (left): Untitled. Photo by Klas Eriksson. Image (right): Simon Mullan. Photo by Petr Davydtchenko
For more information, go here.