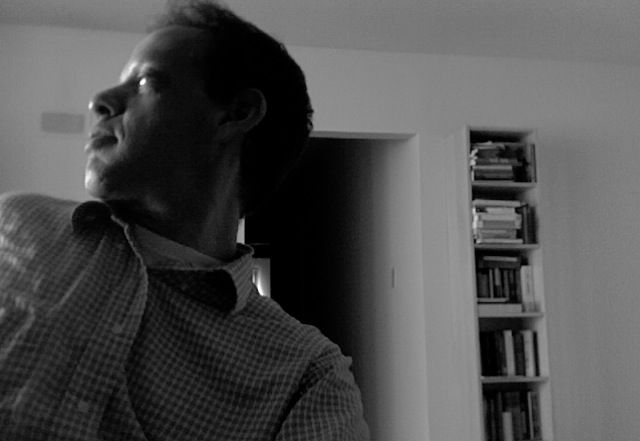 Image: Harold Abramowitz. Photo by Harold Abramowitz

Meeting with Harold Abramowitz in South Pasadena on the last day of February to discuss the making of his enchanting text Not Blessed was a pleasure. Jacquelyn Davis chose this day to record because she is vulnerable to romantic symbolism: on the very same day prior, Abramowitz completed this literary work. Abramowitz reads two consecutive chapters from Not Blessed, and notions of blessed vs. not blessed as well as unorthodox constraint-based writing are examined. valeveil press will publish all three parts of his recently constructed text House on a Hill for the 2nd poetic duo series, providing a Swedish translation of his English original. This talk was originally recorded on February 28, 2011.
Harold Abramowitz is a writer and editor from Los Angeles. His other books and chapbooks include, A House on a Hill, pt. 3 (Slash Pine Press, 2010), A House on a Hill, pt. 1 (#2 of Insert Press Parrot Series, 2010), Sin is to Celebration (collaboration with Amanda Ackerman, House Press, 2009), Technique of Bandaging and Splinting (Little Red Leaves e-editions, 2009), Dear Dearly Departed (Palm Press, 2008), Sunday, or a Summer's Day (PS Books, 2008), and Three Column Table (Insert Press, 2007). He has contributed, alone and collaboratively, to various literary publications and anthologies, including Fold Appropriate Text, P-Queue, Ixnay Reader, String of Small Machines, Area Sneaks, A Sing Economy, The Physical Poets vol. 2, Moonlit, sidebrow, and Sand. Abramowitz co-edits the short-form literary press eohippus labs, and co-curates the experimental cabaret event series, Late Night Snack. He also writes and edits as part of the collaborative projects, SAM OR SAMANTHA YAMS and UNFO.
To access the Am-Scand Lit archive, go here.