The 11th foxhole will occur during the festive season. foxhole meetings aspire to assist independent curators and self-organized entities; the project is interested in creating and supporting its own safe zone or "foxhole" of self-sufficiency in Stockholm.

The Friend, The Institution
THE FRIEND
Dear Rudolfo,
I really hope everything is fine with you? I am working a lot but enjoying life. I would be so happy if you could take care of my paper sculptures for a while. I just don't have the possibility to take care of them right now. Don't worry. You don't have any responsibility for damage or loss. They just need your care for a while. Even if you put them outside in your garden and they get wet from the rain, it's perfectly fine. I really hope you will have the possibility to do this for me. It would mean a lot. Give my hugs to the whole family!
Best wishes,
Anastasia
THE INSTITUTION
» If you buy these sculptures, please keep in mind that you do not own them in a conventional way.
» When I want to use them in a new exhibition, I have the right to borrow them from you.
» The sculptures will change in shape and size over time.
» They will always be returned to you.
"Two years ago, I participated in an exhibition titled "The Current" at AM Art Space in Shanghai. The installation consisted of 500kg of drawing paper, and the space changed character three times over the exhibition period. The last step consisted of six handmade, well-compressed packages with remnants from previous performances packed inside. Drawing paper-ink bottles-sound cables-dead flowers-candles. The sculptures are still in Shanghai in a storage space—ticking money. Over time, I have made three similar paper packages scattered over the world, waiting for something to happen with them. Someone to activate them, to blow new life into them. I invite the audience to fill in the gaps. What is going to happen with these objects? Maybe, someone else wants to continue processing the material? Re-install them, do a performance or concert inside of them? Someone interested in hosting or exhibiting them? Also, I will discuss problems and complications connected to this project. How to navigate smoothly in this art world, were things so easily become commodified."
—Anastasia Ax
Artist Talk: How to Look at the Present Through a Rear-View Mirror, and March Backwards into the Future
Using a broad range of mediums—predominantly photography, film, sound, printmaking—Jacqueline Hoang Nguyen's artistic practice investigates issues of historicity, collectivity, utopian politics and multiculturalism within the framework of feminist theory. Nguyen aims to reveal the unnoticed political relevance of seemingly trivial anecdotes by shedding a unique light on stories deemed otherwise insignificant. This is not the work of a journalist nor historian, yet her works are results of findings, collected material, re-framed content, visual translations with the aim of putting forth a different and novel interpretation. Histories are used in her work in accordance with Walter Benjamin's assertion that every story about the past is more importantly a story about the present, suggesting that memory functions less as an accurate tool for exploring the past and much more as an exercise in re-interpretation. This mise-en-scène opens up an imaginary space in which a critical questioning of canonical narratives and their edification is under operation. To illustrate these processes, art critic and co-founder of the magazine Text Zur Kunst, Isabelle Graw, argues that research means the construction of a reality in which imaginary problems, as problems of the imaginary, can serve as models subject to experimental treatment. Through examples of her work, the artist will demonstrate how to look at the present through a rear-view mirror, and march backwards into the future.
Foxhole Meeting #11
Date: Thursday, 12.15, 2013
Time: 6-8 pm
Location: Minibar Artist Space
Address: Hälsingegatan 33, 113 31 Stockholm
T-bana: Odenplan / S:t Eriksplan
6 – 7 pm: Anastasia Ax's presentation + Q&A
7 – 8 pm: Jacqueline Hoang Nguyen's presentation + Q&A
Note: All meetings are open to the general public. Refreshments await.
December's Invited Speakers
Anastasia Ax, Stockholm-based Swedish artist born in 1979, works in several different mediums— drawing, sculpture, performance, sound—very often, they mix and collide in the same works. This is one of the challenges of her brutal and sublime transformations, how utopian and destructive forces cooperate and create something new. Each performance is new; this is essential. Each meeting between the performer and audience, every destruction of the material at hand, points towards a situation of indeterminacy and free activity, where inner and outer switch places. The role of ink in these activities is double-edged. It belongs to the world of drawing, the physical acts of filling out white spaces. But the black ink has an element of poison and bile, of melancholy and destruction. Raw energies connected with the splashing, the spitting out, the havoc, transform time from linear dimensions into circular moments: new thoughts and communions can take shape, through unpredictable openness of the situation. The beauty is a beauty of scars, traces, cavities. www.anastasiaax.se
Jacqueline Hoang Nguyen is a research-based artist of French-Canadian of Vietnamese origin currently living and working in Brooklyn (US) and Stockholm (SE). Nguyen recently completed the Whitney Independent Study Program (Studio 2010-2011), and obtained her MFA and a
post-graduate diploma in Critical Studies at the Malmö Art Academy (2003-2005). She was awarded a number of distinguished grants including the Canada Council for the Arts (2012); Brenda and Jamie Mackie Fellowships for Visual Artists from the Banff Centre (2012); IASPIS and the Swedish Arts Grants Committee (2010); in addition to Konstnärligt Utvecklingsarbete projektmedel (2007). Amongst selected exhibitions, Nguyen's work was shown internationally such as the Kunstverein Braunschweig in Germany (currently on view); apexart in New York (2013); the ICA, Institute of Contemporary Art in Philadelphia (2012); VOX Centre de l'image contemporaine in Montreal (2012); the Mason Gross Galleries in New Jersey (2011); the Galerie Im Regierungsviertel in Berlin (2010); Gasworks in London (2010), Pictura Gallery/Skånska Konstmuseum in Lund (2009). Upcoming exhibitions include Or Gallery in Vancouver (2013) and A Space in Toronto (2014). www.jacquelinehoangnguyen.com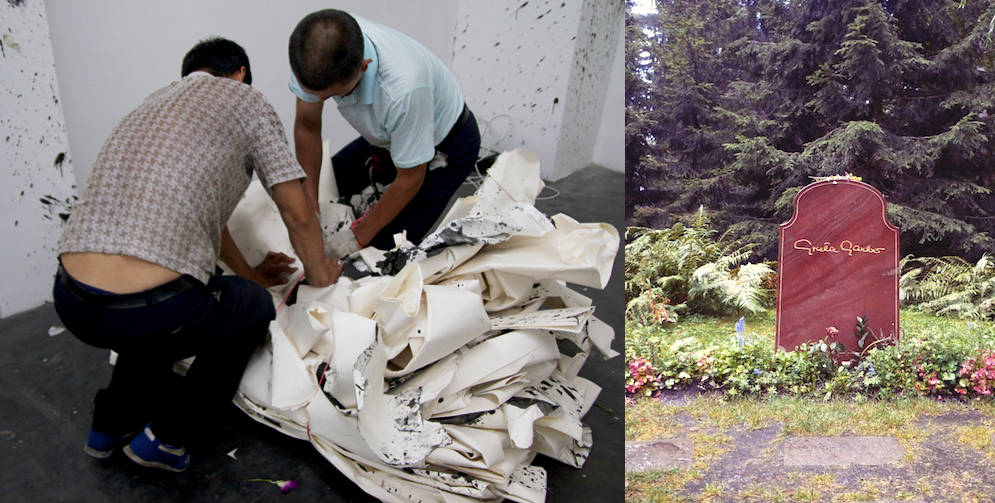 Image (left): Untitled. Photo by Anastasia Ax. Image (right): Untitled. Photo by Jacqueline Hoang Nguyen
For more information, go here.