Hello.
I hired a contract killer.
Everything is slightly sepia toned.
Everything is running and crying, running, stumbling (bump bump) and crying.
Twirling like a little girl in blue dress mit tassels?
Twirling.
Earmuffs in the shape of a big hairy cunt.
I love it when they do that thing in sci-fi movies when the spaceship comes
and covers the sky and everything goes black.
(covering a lamp with a piece of cardboard)
The pig gets beaten up on Christmas Eve.
(throws a curse that will sting quite hard in this life
and in the next and in the next and in the next)
They are not.
He sings.
Sinks.
Wary of sharks.
Green smoke.
(cough)
Silence.
Traveling on a huge banana over the rainbow.
With dreams of a little numb gaze:
Why oh why can't ouch.
Repeats. Whaj. Goes on repeat. I love you. Dad. Why. Shark. Ouch.
The contract killer stumbles on a snail (bump bump).
1.
Hello.
I grab your hand and spit in it:
I see future.
You will drown.
(pompous music)
I will go ask the crystal.
They go (pom pom).
2.
I like it when Dorothy opens the door.
And drops her panties.
And when Glinda comes and destroys everything.
In the witch's castle.
(spits)
I see future, you will live in Kansas. Forever.
Every time Oz calls, you'll miss the train.
Be gone.
Before someone drops a house on you.
I am the Great Melancholy Dot Com.
I roll up.
I am Dobby the House Elf Milf.
Dot Com.
Today, I painted the whole world in a big rainbow chakra healing big ass silence forever
I will let you down I love you dad as gnomes paint chess boards on Christmas Eve.
Little mama.
He sings.
Green smoke.
(cough)
Silence.
(silence)
I just found a bowl of blood in the basement?
My name is Little Sock.
(silence)
In Sweden, everyone eats 20 kg of pig per year.
And eight grams of the rat.
Five liters of spunk.
And your grandmother.
With a bottle of Chianti.
Shlrrrr.
Eight million Swedish men pull out into the woods to shoot elk at this very hour.
The water level is 80 km above the normal.
Today, rabbit, tiger, bear, all the monkeys and Switzerland was exterminated.
A one and a two.
I'll just.
Pingu.
Ooh la la valley of tears.
Can only think of:
The cloud above right now looks like a roasted chicken.
A house falls down (bump bump) and kills everything.
Outside picture, everything has collapsed.
3.
How do you get penis to jump through flaming rings?
The cloud above looks like a roasted chicken.
Comic relief dwarf.
Big dick.
Begins to comb his hair frantically.
We are activating them bombs now. Bah oumbs.
Become a world parent.
(sacrificing a passive woman in a large pot)
Silence.
Pompous music.
Oh my God I love you guys.
Someone is sitting alone in a pool of spit in your palm, forever hated.
The camera zoomed out.
Blaze.
Silence.
—Stina Kajaso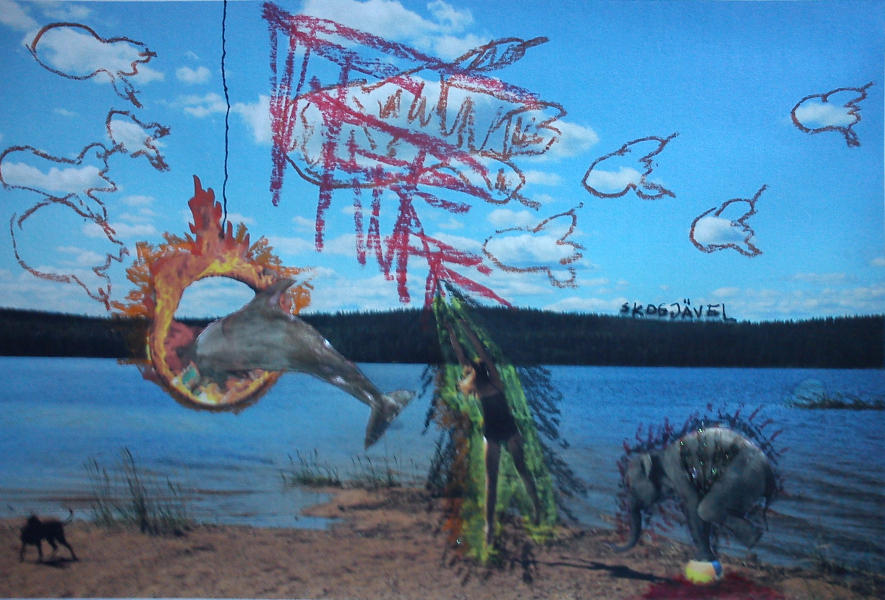 Bio [en]
Stina Kajaso was educated at Akademi for Scenekunst (Fredrikstad, 2000-2003). In her own words:
I am a band. I make magic like Siegfried & Roy. I am the great sadness that rolls in. Roll roll. I have made a number of productions in the group Sons of Liberty and a couple of solo exhibitions. Art. Video. Text. Song & dance. And a bit of prostitution.
Bio [sv]
Stina Kajaso är utbildad vid Akademi for Scenekunst (Fredrikstad 2000-2003). Med hennes egna ord:
Jag är ett band. Jag gör trolleri som Siegfried och Roy. Jag är det stora vemodet som rullar in. Rull rull. Har gjort ett antal produktioner i gruppen Sons of Liberty och ett par soloföreställningar. Konst. Video. Text. Sång och dans. Och lite prostitution.
Artist Info
sonofdaddy.blogspot.com